Hubby and I at ecp prize station late one night!
This kitty made us very very very pekchek
She hang herself up and sell
Whole night only managed to catch ONE! Zzz
Brought Trev to rivervale mall one random afternoon
And loved the mummy n son 'MOMENT'
Challenging cos we walked all the way there!
A treat for Trev at BBQ chicken!
Savouring some yummy ice cream after a long walk here!
My love!! Soooo funneh!
Got plenty of cheap stickers from Rivervale mall!!
Barney, Thomas, stitch, and Elmo!
Trev loves them loads
Pasting these stickers on his arms n on the sticker book makes him an obedient boy who can sit and focus
I like...! lol
We spent some time to do some colouring together too!
Colouring in a slicing motion
Ouch.
Distracted
But with assisted guidance
His apple is completed
But it looked like a ramapple
Rambutan and apple mix breed
Without strict guidance
My son 半途而废
K I'm stoning as I'm blogging w my phone
Cos I'm tryin to recover from a loss
A terrible loss
We lost one side of Trev's black rocker havaianas flops!!!!!
At either tampines (lot 1/mall/centurysq), NEX, or the confusing line of mrts
Cos we transitted all over NEL n circle line then to paya lebar and to tampines
O FML
How much I loved that slipper!
The friction on the soles still gaogao! Still very new!
HAI goodbye le~
I'll keep another side for to
留做纪念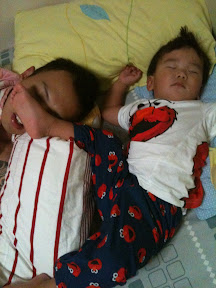 Gon go join my little one in bed.
big sigh!!!!!
Posted using BlogPress